Movie Night at FHC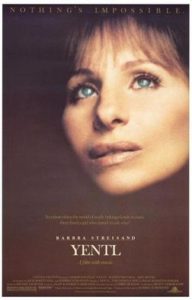 When: Wednesday, June 21, 7PM
     What: Yentl
Admission: FREE! No charge for the movie or popcorn but donations appreciated.
Join us for a fun night at the movies…….
Yentl is a 1983 American romantic musical drama film directed, co-written, co-produced by, and starring American entertainer Barbra Streisand. It is based on Isaac Bashevis Singer's short story "Yentl the Yeshiva Boy".  The film incorporates music to tell the story of an Ashkenazi Jewish girl in Poland who decides to dress and live like a boy so that she can receive an education in Talmudic law after her father dies. The film's musical score and songs, composed by Michel Legrand, with lyrics by Alan and Marilyn Bergman, include the songs "Papa, Can You Hear Me?" and "The Way He Makes Me Feel", both sung by Streisand. The film received the Academy Award for Best Original Song Score and the Golden Globe Award for Best Motion Picture—Musical or Comedy and Best Director for Streisand, making her the first woman to have won Best Director at the Golden Globes.
Click here for more information about this movie.
Add our movies to your calendar and join us monthly for an enjoyable night out.
Upcoming showings include:
July 19 – Biloxi Blues
August 16 – Three Little Words
September 20 – The Life and Times of Hank Greenberg
*****************************************************
*NEW*

Sunday, July 16, 10AM
Anita Silvert Sunday morning program.
A Word, A Verse, A Song
A look at the American Jewish community of the early 20th century through the eyes of the Jewish lyricists of the Golden Age of Broadway
Join us for a bagels and lox program with Anita Silvert
There will be social distancing and masks optional for those fully vaccinated.
*****************************************************

2023 Summer Reading in South Haven
At the First Hebrew Congregation of South Haven
                               Join us at 10:30 am for coffee cake and discussion
Sunday, June 4
Today A Woman Went Mad in the Supermarket, a collection of short stories by Hilma Wolitzer
Sunday, June 25
Crying in H Mart, a memoir by Michelle Zauner
Sunday, July 9
One Hundred Saturdays: Stella Levi and the Search for a Lost World by Michael Frank (nonfiction)
Sunday, August 13
The Choice: A Novel of Love, Faith, and the Talmud by Maggie Anton
This program series is free and open to the community. Our book club discussion will be facilitated by Sharona Shapiro
For further information or to RSVP: shapirolerner@gmail.com
Meet the Author – Richard Lazaroff
Author of Illumination, inspired by South Haven!
Wednesday, August 15, 2023, at 7 p.m.
New Historical Fiction Novel Follows Four Generations of the Same Family While
Examining Events Affecting American Jews Over the Last 100 Years
Book follows a modern-day woman in an interfaith marriage, along with the stories of her ancestors
ST LOUIS, Mo. – Author Richard Lazaroff's first novel weaves a compelling multi-generational family saga that follows four generations from their immigration from Kiev to South Haven, Mich. While a fictional account, the book is punctuated with historical information assessing historical events affecting American Jews over the last 100 years.
In "Illumination," by Richard Lazaroff, readers are introduced to Rachel Walsh, a modern-day woman in an interfaith marriage trying to sort through her feelings about her Jewish faith, while navigating life as a busy pediatrician, mother, and wife. A chance meeting with the rabbi who co-officiated her wedding leads to serial meetings where, together, they examine issues holding her back from allowing faith to enrich her life and the lives of the community where she lives.
"Faith is a choice," said Lazaroff. "It can offer answers to the most difficult human questions and serve as a guide to leading a meaningful life."
While in vacation in South Haven Mich. Lazaroff came across a monument that shared the area's story as the "Catskills of the Midwest." The monument spoke of the role the Chicago Jewish Agricultural Society played in assisting immigrant farmers getting started. These same farmers shifted to resorts as automobile travel allowed those in the big cities to travel north in the summer.
"I thought this obscure footnote in Jewish history might make a great background while exploring modern-day choices about faith," said Lazaroff.
"Illumination"
By Richard Larzaroff
ISBN: 9781489740878 (softcover); 9781489740885 (hardcover); 9781489740861 (electronic) Available at LifeRich Publishing, Amazon and Barnes & Noble.
About the author
Dr. Richard Lazaroff received his B.A from Brown University and his M.D from St. Louis University, and then practiced pediatrics for nearly 40 years. Now he keeps busy with four grandchildren, golf, duplicate bridge, and writing. He has one prior publication, entitled "Some Assembly Required-A Guide for Savvy Parenting."
Please check back for other upcoming events throughout the year!