Movie Night at FHC
When: Wednesday, December 21, 7PM
What: Movie Screening – Tin Men
Admission: FREE! No charge for the movie or popcorn but donations appreciated.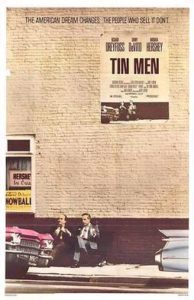 Join us for a fun night at the movies……..
One step short of larceny, the aluminum siding salesmen in this movie sell their wares, compete with each other, and engage in a lot of great dialog. Tin Men focuses on the rivalry between BB Babowsky and Ernest Tilley. At the same time, the end of small world of which they are kings looms near as a government probe investigates their industry.
Click here for information about this movie.
Add our movies to your calendar and join us monthly for an enjoyable night out.
Upcoming showings include:
January 18 – Broadway Danny Rose
February 15 – Radio Days
First Hebrew Congregation of South Haven
Summer Reading Club 2022
Thank you for making the Summer Reading Club a success! We look forward to seeing you next summer.
Please check back for other upcoming events throughout the year!